Join us!
We've partnered with The Wetlands Conservancy, Friends of Netarts Bay WEBS, and Jacobsen Salt Co. to put together a full day excursion on the pristine Oregon Coast filled with educational experiences like an oyster hatchery tour, tide pool exploration, research reserve hike and lunch at world-famous Jacobsen Salt Co. from Flying Fish Co. overlooking Oregon Oyster Company's oyster flats.
The day's activities will start as an all-hands tidal exploration and clean-up, then we will be broken up into several smaller groups, each with limited occupancy and individual sign-ups. Limited transportation from PDX is available through Flying Fish Co.'s chartered bus, and an additional 20 guests can join us by driving themselves (sign-up required below). Read through the timeline, and click the links to learn more about each optional experience before signing up.
World Oceans Day Timeline
(pre-purchased seat required to ride the bus. See links below.)
Welcoming talks from Shuck Portland, The Wetlands Conservancy and Friends of Netarts Bay WEBS, with information on the day's agenda, goals and mission from each organization.
10:45am - 12:00pm
ALL HANDS-ON DECK!
Tide pool exploration and micro-plastics cleanup
Everyone joins in for a wet, wading exploration of the tidal zone lead by experts from Friends of Netarts Bay WEBS. Low tide is around noon, which will give us a chance to view wildlife both above and below the water, and roll up our sleeves to help clean up the area of micro-plastics. **Please make note of what to bring in the section below.**
12:15pm
All aboard A VEHICLE, BUS OR CARPOOL: depart for ONE OF TWO PLACES:
Jacobsen Salt Co. for Whiskey Creek Hatchery Tours (full details and sign-up below), lunch and a pristine view and visual tour of Netarts bay oyster flats

Cape Lookout State Park 12:30-3:30pm for Bay Hike and Netarts Bay Research Reserve Exploration (full details and sign up below)

12:30-2:45pm
Oyster Hatchery Tours
After our morning in the Oceanside tide pools, those of us not participating in the incredible hike to the Netarts Bay Research Reserve Site will head to Jacobsen Salt Co. where recurring Oyster Hatchery Tours will take place. The Flying Fish Co. bus will make loops from Jacobsen Salt Co. to the Whiskey Creek Hatchery.
12:30-2:45pm
jacobsen salt co. ACTIVITIES
While you are waiting for the Flying Fish Co. bus to scoop you up for the Whiskey Creek Hatchery Tour, hangout at Jacobsen Salt, and enjoy lunch (for purchase) from Flying Fish Co., tour the saltworks facility, learn about wetlands, native oysters and oyster farms.
3:15pm
Research Reserve participants return to Jacobsen Salt Co.
If you rode the Flying Fish Co. bus, and went on the research hike, you will return via carpool to Jacobsen Salt co. in time for the bus to depart.
3:30pm
WRAP UP!
Portland bus departs for Portland
This is where we hug you goodbye after a fun day learning and adventuring together!
Self-drivers can head out at any time, or enjoy more of what the beautiful Oregon Coast has to offer!


Location Details and What to Expect
WHAT TO BRING
Appropriate clothing and shoes. Oregon coastal weather is dynamic. Please be prepared for rain, wind or sun. To reduce waste, please bring a reusable water bottle with you and any snacks needed to keep you comfortable. ***Your feet will get wet during the event!*** Many of the day's adventures require you to walk through sea water. Due to the terrain and facilities we will visit, closed-toe shoes are required. We suggest Xtratuf or welly boots. Flip flops and open toe sandals are not permitted in many of the locations you will visit.
Lunch will be for sale at Jacobsen Salt Co.'s Saltworks from 2:00-3:00pm, provided by Flying Fish Co. If you have selected to attend the Bay Hike to the Research Reserve, please bring your own lunch or plan to acquire lunch in advanced.
Water.
Sunscreen.

10:30am MEETING LOCATION
Oceanside Beach State Recreation Site, Tillamook, OR 97141 : Map
PARKING AT THE FIRST MEETING LOCATION
You will move to multiple locations throughout the day. The map below outlines the best locations to park at the first rendezvous location in Oceanside. Getting to the Netarts Bay Research Reserve via Cape Lookout State Park may require carpooling to and from, as well as to Jacobsen Salt Co. for a later meet-up with the group.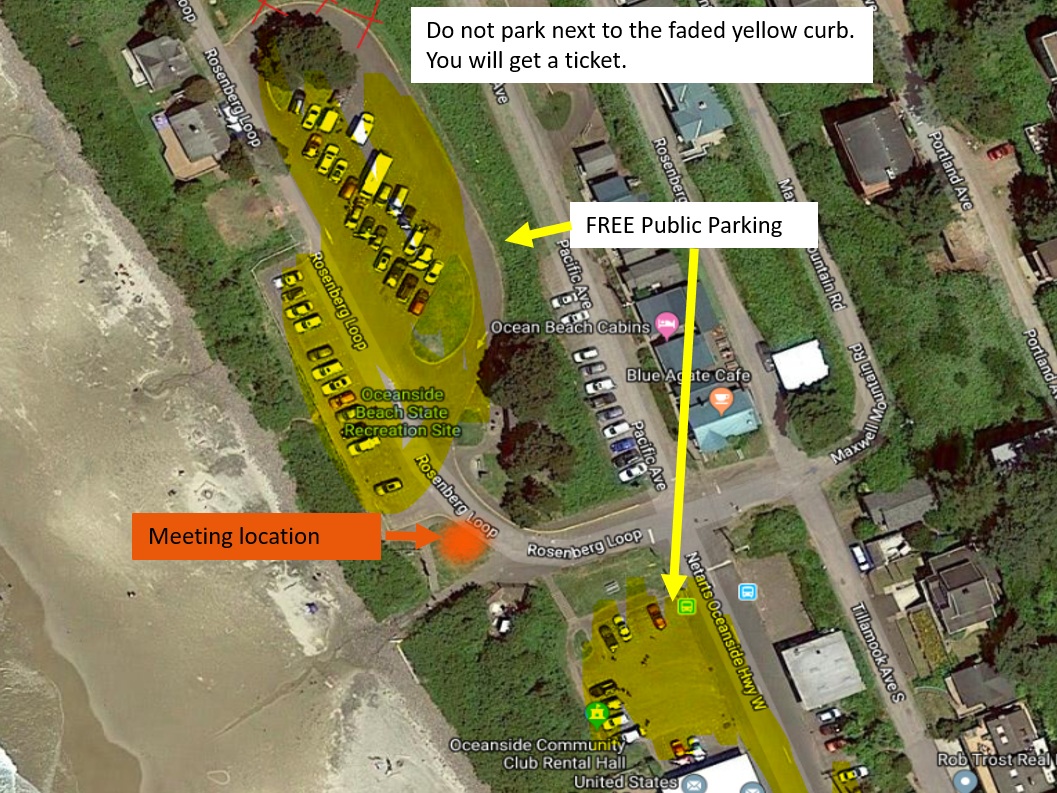 Word Oceans Day Excursions
Click on each link to read more about the day's activities, what to bring, and what to expect.
SIGN UPS ARE REQUIRED
Whiskey Creek Shellfish Hatchery Tour
12:30-2:45pm
The tour is a rare opportunity to learn about the the 50-year old facility, the state of the art scientific research going on at the hatchery, and the issues faced by the shellfish industries and wild shellfish along the Pacific Northwest.
A bus will transport attendees from Jacobsen Salt Co. to the hatchery during the time block.
Hosted by Friends of Netarts Bay WEBS
EVENTBRITE PASSWORD: Shuck Portland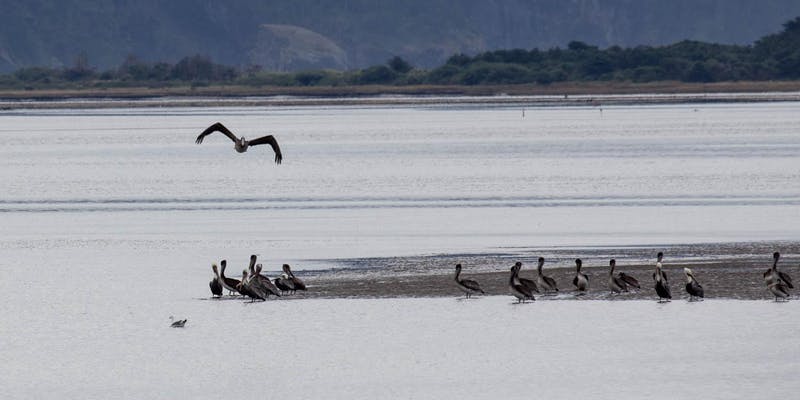 Bay Hike and Netarts Bay Research Reserve Exploration
12:30-3:30pm
Hike out from Netarts Spit into the bay, crossing over and near a variety of habitats. Be inspired by amazing bay life, birds, and plants thriving in this salt water bay. Learn about vital industries, like oyster farming and view large "legacy" pacific oysters nearly 30 years old! Hold evidence of the efforts to reestablish native oysters in your hands while you stand in the bay's Research Reserve.
Hosted by Friends of Netarts Bay WEBS
EVENTBRITE PASSWORD: Shuck Portland
Ride the Bus from PDX to Netarts
8:30am Sharp Departure - 5:00pm Approximate Return
Transportation for up to 30 people will be provided through Cascadia Cruiser. Guests on the bus will able to participate in any of the coastal experiences before returning via bus to Portland.
Special Thanks to our Partners
The Nature Conservancy
Tillamook Estuaries Partnership
Whiskey Creek Shellfish Hatchery
Tillamook School District #9
Explore Nature Partnership